Halloumi Salad | PLANT BASED & LOW CARB
Salad for dinner? I get it right - you have had a high-carb day and want to balance out your nutrition with something low-carb like salad for dinner but still want to feel satisfied right? This Halloumi Salad is a firm plant-based favourite in our household, especially on a busy week night! Halloumi Cheese is delish, is high protein and calcium, plus the fat content makes you feel yummy, warm and satisfied!

ps - I say "plant-based" because the dish is vegetarian* and contains no meat - halloumi is very much an animal product**!

pps - halloumi's nutritional profile can vary slightly based on how you prepare it, and while it is "low-carb" it still contains saturated fat and salt, so like everything in life, it's best enjoyed in moderation with a balanced diet!
See below for the recipe & nutrition benefits (and pit-falls!) of Halloumi Cheese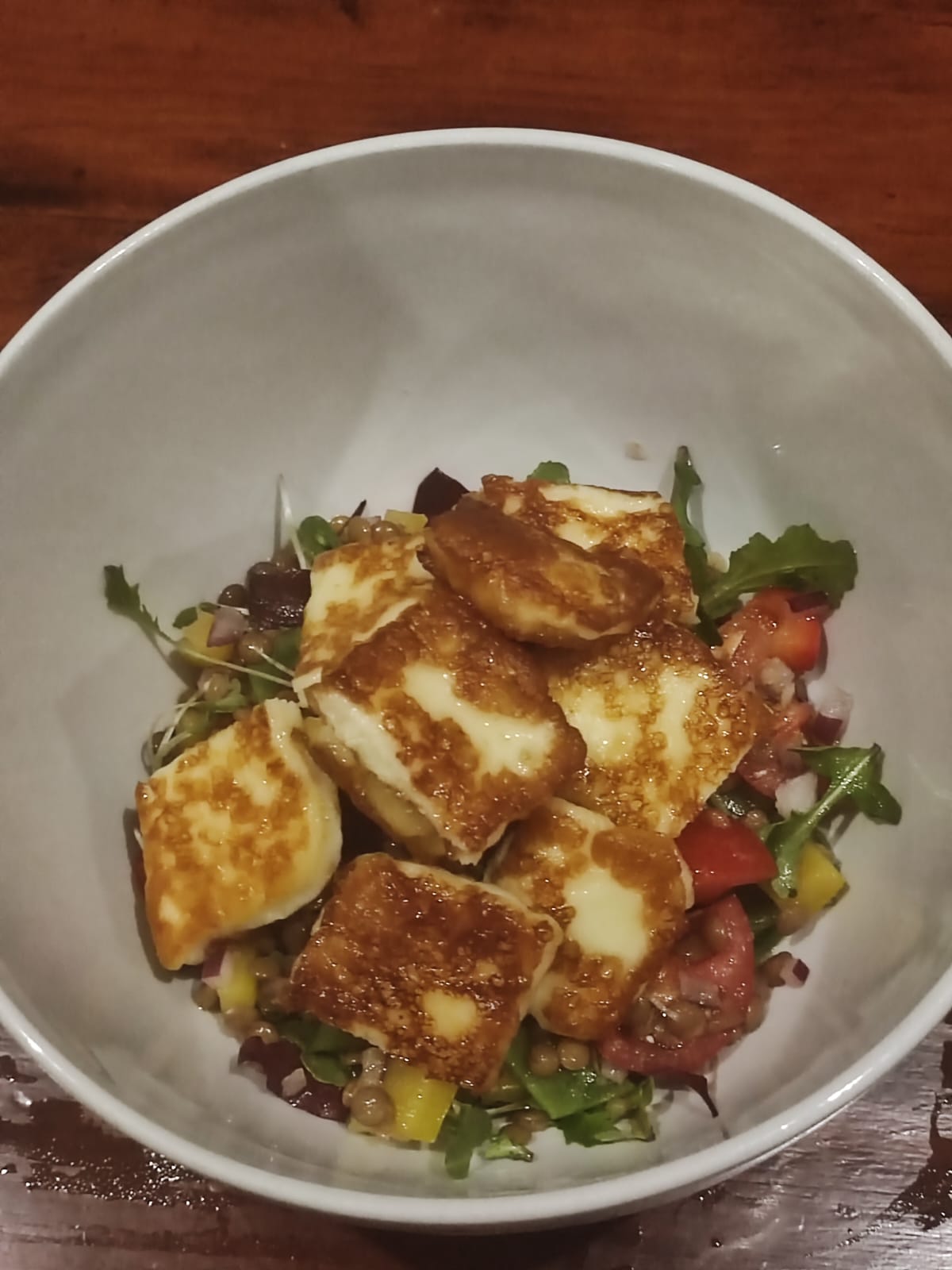 RECIPE:

- chop up your fresh salad items into a bowl (we use tomatoes, peppers, mange tout, micro-herbs and red onions, but honestly anything fresh you have in your fridge will do!

- add some cooked lentils or quinoa (it really just depends on what we have at home, but remember that lentils are a starchy source of protein and can have a higher calorie content than quinoa)

- toss salad with some apple cider vinegar or white balsamic vinegar to add a "tangy" taste

- pop a VERY little amount of oil in a pan and lightly fry the halloumi pieces until golden (halloumi has its own fats and oils, so you don't need to add much, just enough so that it doesn't stick to the pan!) We use about 4-5 small squares per serving.

- a generous squeeze of lemon gives the halloumi a nice squeak!!

- make sure you prep enough salad and halloumi for tomorrow's lunch (I just pop the cheese in the micro-wave for a few seconds to warm up and put back on the salad!)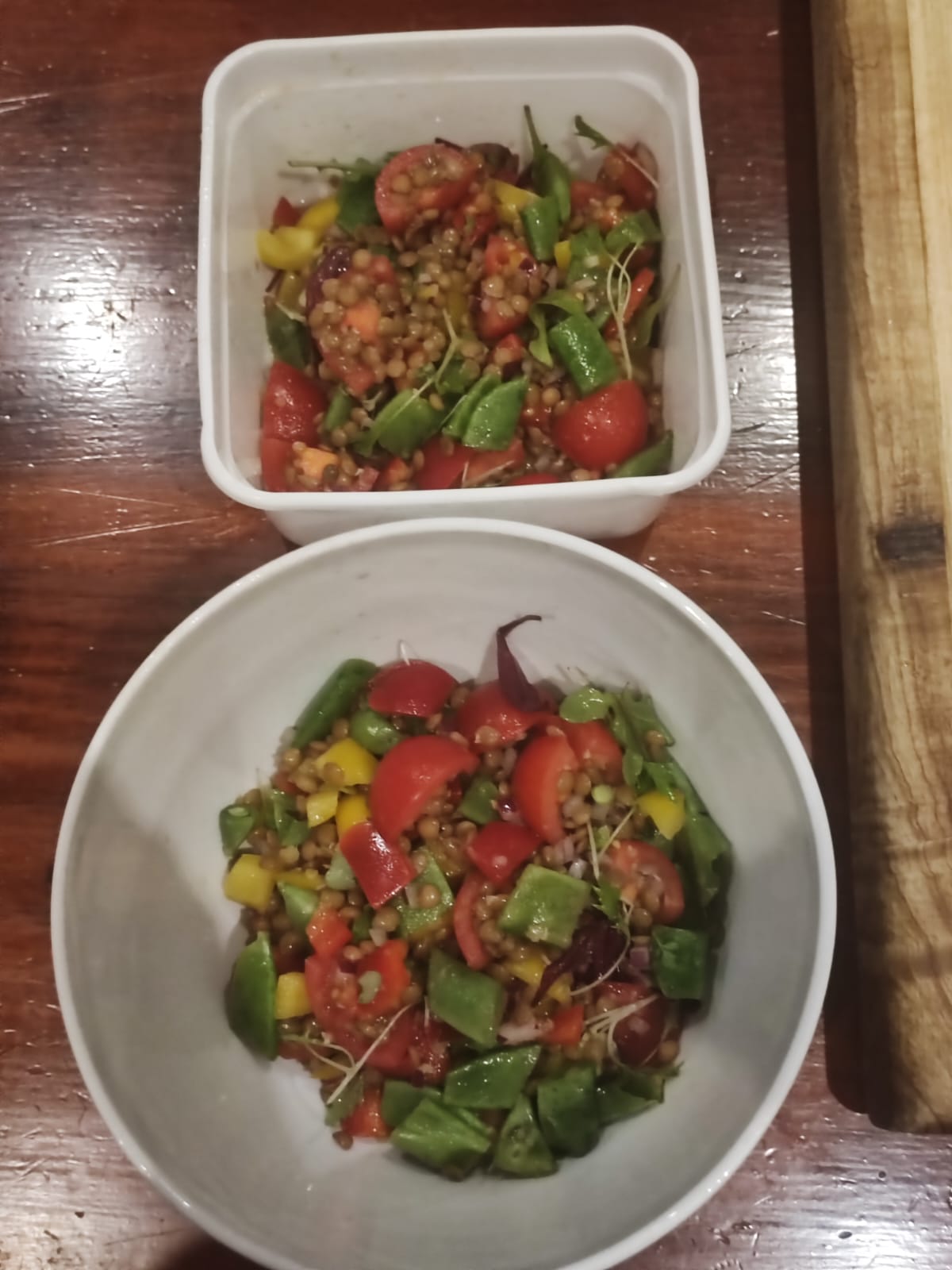 NUTRITION:

While halloumi's nutritional profile can vary slightly based on how you prepare it, each serving provides a good amount of protein and calcium.

A 1-ounce (28-gram) serving of halloumi contains the following nutrients:

Calcium, in particular, plays a key role in muscle function, nerve transmission, bone health, and hormone secretion

Meanwhile, protein promotes proper growth and development and supports muscle growth, immune function, and weight management

BALANCE IS KEY!

- Keep in mind that the fat and calorie content of each serving can increase if you fry the cheese or cook it in oil
- It's also high in salt and saturated fat, a type of fat that may contribute to increased levels of LDL (bad) cholesterol when consumed in high amounts

Therefore, it's important to enjoy halloumi in moderation alongside a balanced diet.
*Note that halloumi is not suitable for those following a dairy-free or vegan diet.
**Vegetarians should also check the ingredient label carefully, as some varieties are produced using animal-derived rennet. This ingredient is produced in the stomachs of ruminant animals, such as cows, sheep, and goats, and is not vegetarian-friendly.

Source: https://www.healthline.com/nutrition/what-is-halloumi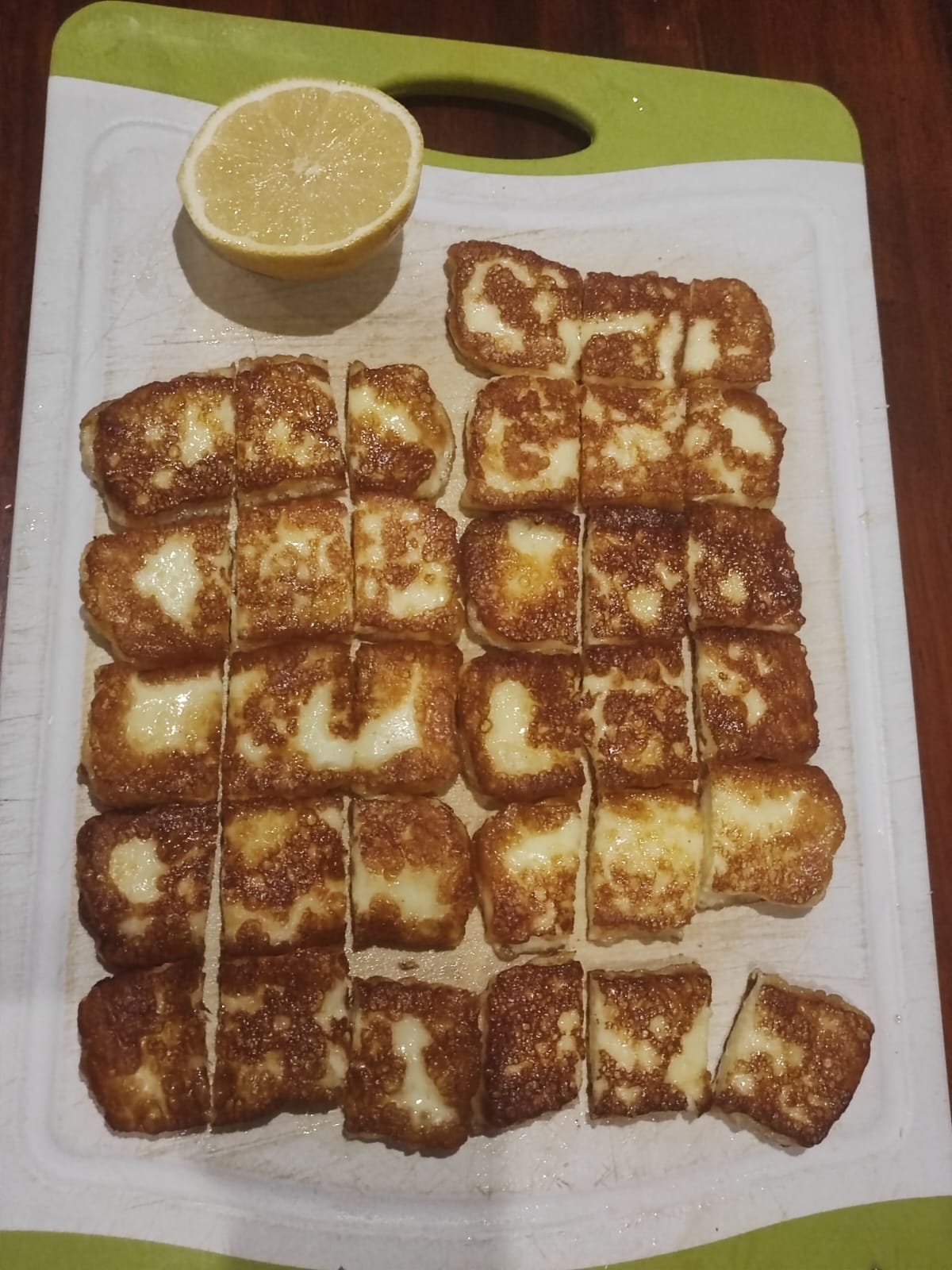 Share